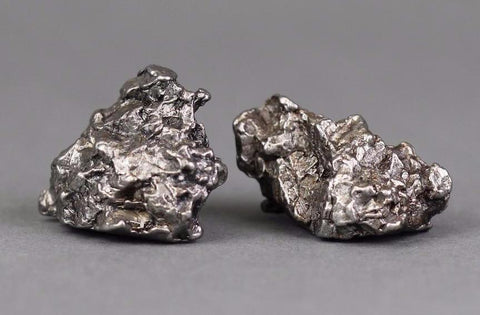 Sold
Iron Meteorite, Campo del Cielo, Argentina
This piece has been sold, but we may have a similar item available. Contact us online to make an inquiry.
This unbelievable piece comes straight from outer space. Five-thousand years ago the giant "Campo del Cielo" meteorites bombarded what is now Chaco Province in Argentina. In 1576 Spanish explorers discovered the massive craters and monstrous iron meteorites weighing several tonnes, along with many small fragments.
Small measures approximately 1 x 1.25 inches (2.5 x 3.25 cm). Weighs 16 to 20 grams.
Medium measures approximately 1.25 to 1.5 inches. Weighs 25 to 40 grams.
Large measures approximately 1.5 to 1.75 inches (3.7 to 4.5 cm). Weighs 80 to 90 grams. 
The composition is primarily iron with traces of Nickel and Cobalt.