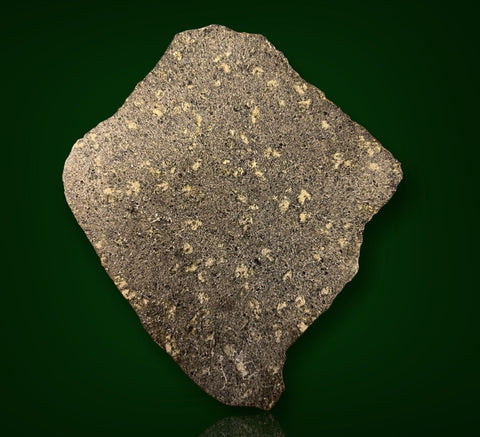 Martian Meteorite Slice, 92 grams - Plateau du Tademait 008
$14,000.00 USD
Large Martian meteorite slice, 92.2 grams 
Name: Plateau du Tademait 008
Classification: Martian shergottite (olivine-phyric basalt)
Country: Algeria
Approximate Specimen Measurements: 14.25 x 12.5 cm
Professionally sliced and polished 
How this Mars rock reached Earth is truly remarkable: 
An asteroid impact on Mars forcefully ejected surface rock, sending it on a journey through interplanetary space (157.48 million km in our direction), and it ultimately fell to Earth as a meteorite! 
Signed Certificate of Authenticity issued by Fossil Realm included
Writeup from the Meteoritical Bulletin Database (MB 112):
Plateau du Tademait 008 28°55'03.8"N, 0°59'05.6"E

Physical characteristics: Single stone with patches of black fusion crust, sandblasted surfaces show exposed olivine phenocrysts. A polished slice reveals numerous pale green olivine phenocrysts up to ~1 cm in diameter that poikilitically enclose smaller pyroxene grains. The groundmass consists of dark gray pyroxene grains up to 500 μm and smaller olivine grains.

Petrography: (C. Agee, UNM) This meteorite has the approximate modal abundances: 50% clinopyroxene, 25% olivine, 10% maskelynite, with accessory ilmenite, chromite, Ti-Cr spinel, and pyrite. Clinopyroxene shows a tightly bound, continuous calcium enrichment trend. Olivine phenocrysts show a narrow compositional range from low Ca-pyroxene to pigeonite to subcalcic augite. Maskelynite is usually observed occupying pyroxene and olivine grain boundary pockets. Small vesicles are scattered throughout.

Geochemistry: (M. Spilde, UNM) Olivine Fa40.4±0.9, Fe/Mn=50±2, CaO=0.25±0.05, (wt%), n=6; clinopyroxene Fs26.3±4.6Wo17.6±9.2, Fe/Mn=29±2, n=12; maskelynite An51.0±3.2Ab47.2±3.4Or1.8±0.5, n=7.