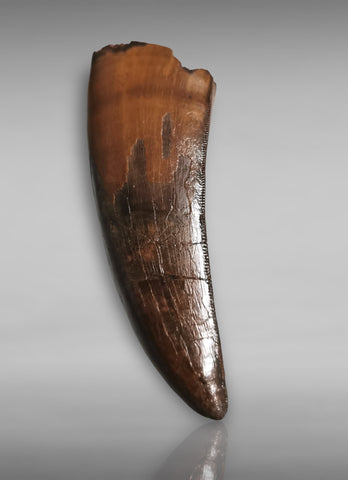 Sold
Large Tyrannosaurus rex Tooth - 4.06 inches
This piece has been sold, but we may have a similar item available. Contact us online to make an inquiry.
This tooth has sold but we have another exceptional trex tooth here

Beautifully serrated and gorgeously coloured 4.06" Tyrannosaurus rex tooth. Superb, large specimen. T. rex teeth of this size rarely last long on the market!

Upper Cretaceous
Butte County
South Dakota, USA
Measures 4.06" long (Straight line measurement) x 1.44" x 0.98"
Glass Riker-style display included
Restoration and repair: The tip-end and rest of tooth were found separately at the same dig site, during same year. However, since they were not found right beside each other and at the same time, it is possible that the two pieces came from different, similarly sized-teeth; in fact, it's safest to assume this is a composite. There is a band of restoration in the middle of the tooth (the purple areas in the last two images shows the extent of the restoration). Overall it is in excellent condition and the restoration was carried out to the highest standard.