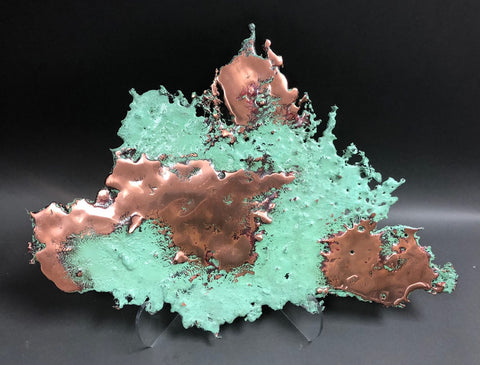 Sold
Splash Copper Artwork - 25.5" x 18.75"
This piece has been sold, but we may have a similar item available. Contact us online to make an inquiry.
This natural artwork was made by pouring pure, melted copper onto a flat surface, where it cooled and solidified into a dynamic splash formation. The complementary green copper oxide and brassy native copper make this a great aesthetic display of a material essential to human history.
Sourced from Ontonagon County in Upper Michigan, USA. This region is known as "Copper Country" because it has the largest deposits of native copper in the world. Native Americans mined the copper ore beginning around 5000 BC for tool use. Commercial mining began there in the 1840's and rapidly grew into a large industry. 
Measures 18.75"(H) x 25.5"(W) x 0.2"(D). Weighs 12.2 lbs. / 5533 grams.