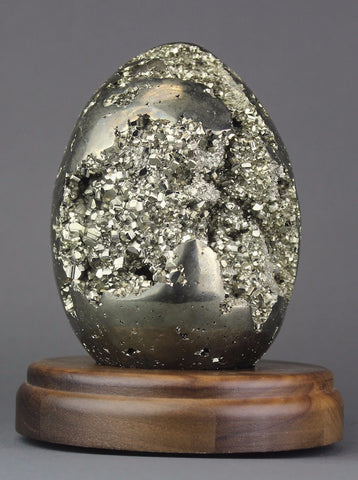 Sold
Large Pyrite Egg from Peru - 5.4 inches
This piece has been sold, but we may have a similar item available. Contact us online to make an inquiry.
This is an exceptional pyrite egg sculpture from the Andes of Peru.
It is composed of hundreds of brilliant cubic crystals. Pyrite's sought after golden luster is clearly evident in this gorgeous piece.
Pyrite is commonly referred to as "Fool's gold." Although similar in colour to gold, pyrite is an iron sulfide mineral and much harder than gold.
Interestingly, fossils such as ammonites can become pyritized (replaced by pyrite) in low oxygen conditions, resulting in extremely beautiful specimens.
This stunning decorative mineral would enliven any home or office!  
Dimensions: Length - 5.4 inches / 13.6 cm Width - 3.8 inches / 9.5 cm 
Weight: 2300 g / 5 lb 3 oz 
Rotating oak stand included.